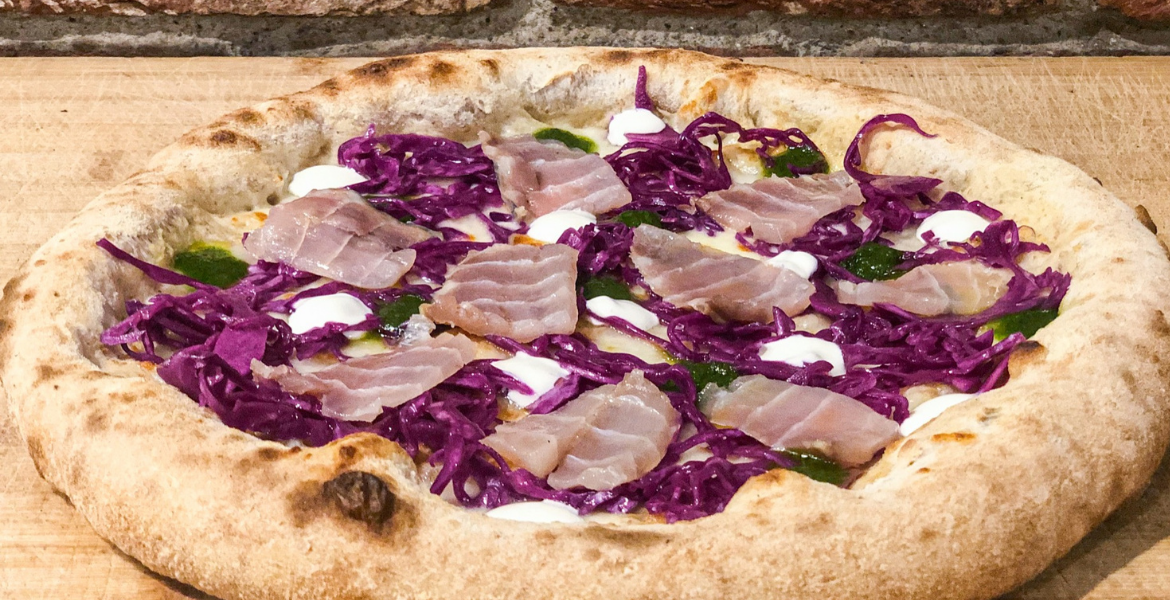 Jul 05 , 2021
Antonio Pappalardo, pizzaiolo of Cascina dei Sapori, thought up a pizza that showcases our lightly smoked sturgeon meat in a fresh, light and creative recipe. Give it a try at home!
Ingredients:
1 kg of type 1 flour
650 gr water
25 gr salt
3 gr brewer's yeast
200 gr Cru smoked sturgeon
100 gr purple cabbage
Raspberry vinegar
50 gr whipping cream
5 gr lemon juice
100 gr parsley
1 anchovy
40 ml extra virgin olive oil
1⁄4 garlic clove

Directions
Put the yeast, flour, and half of the water (not cold) in a bowl and start to mix. Continue to mix adding the water a little at a time and then finally the salt.
Let the dough rest for 30 minutes wrapped in plastic wrap on the courtship. Form it into small 250gr rounds and let it rest at 4 degrees for 18-24 hours in an air-tight container. Roll out one of the dough rounds leaving a large and visible crust so that the dough once cooked will "dimple." Top with the fiordilatte cheese and bake in a wood-burning oven at 420 degrees for two minutes.
Cut the smoked sturgeon filets into thin slices. Cut the purple cabbage and let it marinate overnight in the fridge in the raspberry vinegar. The next day, drain the cabbage and dress it with the salt and olive oil. Half whip the cream, adding the lemon juice at the end. In a blender put the parsley, garlic, oil and anchovy and blend until you have a smooth sauce. Take the pizza out of the oven and top it with the cabbage, sturgeon, and with the help of a
sauce bottle, the whipped cream and green sauce.
---