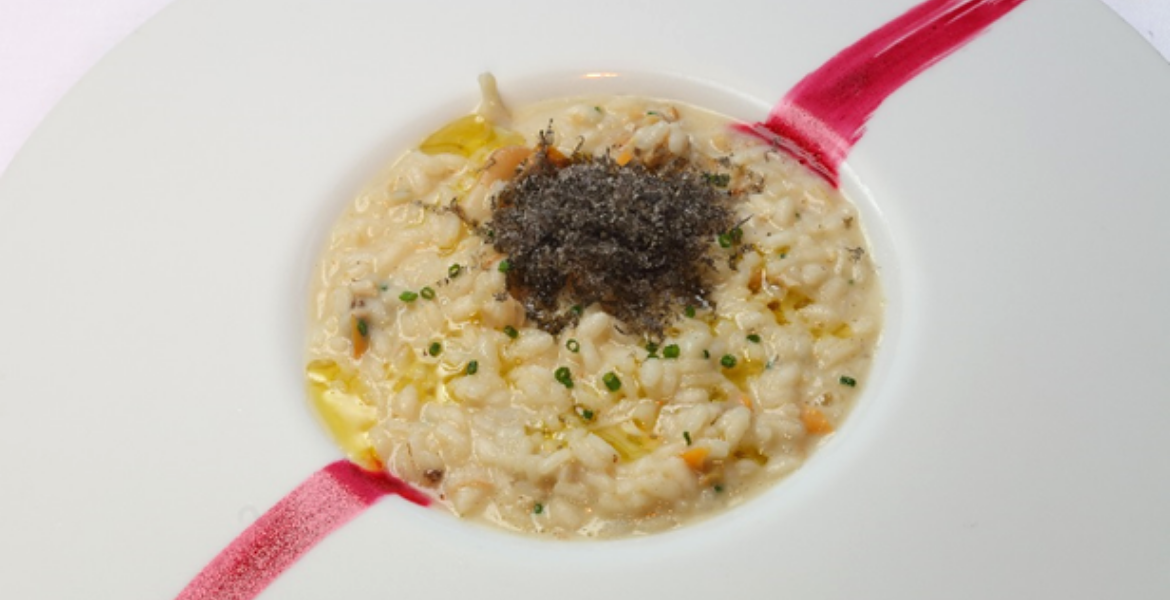 Sep 24 , 2021
Short on ideas for tonight's dinner? Chef Silvio Giavedoni suggests a traditional Italian seafood dish with a creative twist: a sprinkling of Cru Caviar Cigar to complete the finished dish.

Preparation time:
35 minutes
Ingredients for 2 people:
• Ml. 400 vegetable broth
• 400 g clams
• 300 g razor clams
• 30 g white onion
• Parsley sprigs
• N. 1 unpeeled garlic clove
• Ml. 80 white wine
• Fresh lemon juice
• Extra virgin olive oil
• 120 g Carnaroli rice
• 40 g Cru Caviar butter
• Cru Caviar Cigar to taste

Directions
In a pan, heat up the olive oil, garlic clove, and parsley sprigs. Once warm, add the clams and razor clams; add the white wine and water and cover immediately. Leave it to cook off on high heat for a few minutes. Drain the mixture setting aside the liquid (you'll need it to cook the rice). Separate the clams and razor clams from their shells, adding both types of clams to the cooking water and let them cool.
In a saucepan add a drizzle of olive oil, the rice and the finely chopped white onion; leave on high heat for a few minutes, tossing gently until the rice begins to emit a squeaking sound. At this point add the white wine and swirl vigorously into the pan until the wine has been absorbed.
Begin to add the water with the shells and the vegetable broth, alternating them; roughly nine minutes after adding the white wine, add the shellfish (make sure the razor clams are cut in half). Let simmer for 3 minutes.
Remove the risotto from the heat, adding a half ladleful of the shellfish water and proceed with adding and mixing the caviar butter, a drizzle of olive oil, chives, and a few squeezes of lemon juice. Plate in a warm bowl and finish the dish with a generous grating of Cru Caviar's cigar.
---