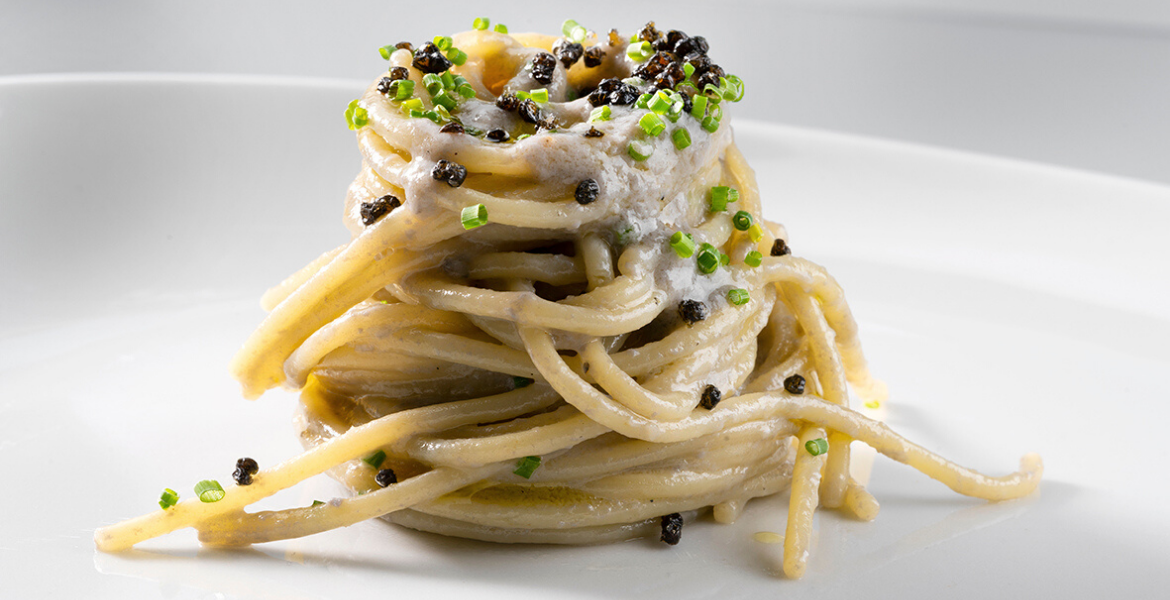 Sep 27 , 2021
Intense, rare, exclusive: the taste of this dish recalls the excellence of our 100% Italian caviar and of our versatile products that enhance its flavor. Simple steps for an effective result that will amaze your every guest.
Preparation time:
15 minutes

Ingredients for 2 people:
• 100g of Spaghetti Verrigni
• 40g of Cru Caviar butter (about 20 per serving)
• 15g of Crispy Cru Caviar
• Chives to taste
• Fresh lemon juice to taste
• Coarse salt to taste
• Extra virgin olive oil to taste
• Recommended: Cru Imperial caviar to taste

Procedure

First, boil a large pot of water; once it reaches a strong boil, add salt, toss the Verrigni spaghetti and set a 7-minute timer for proper cooking al dente.
In a steel bowl, melt the caviar butter in a bain-marie and prepare a condiment base consisting of two tablespoons of the pasta cooking water, crispy Cru caviar, a drizzle of oil, chives and lemon juice.
When cooked, drain the spaghetti and gently work them with tongs, mixing well the condiment base made previously, always remaining in a bain-marie.
Serve in a hot bowl, making a nest with the help of tongs and ladle.
Garnish with more crunchy caviar and chives.
In addition, it is recommended to add a generous teaspoon of Cru Imperial caviar at the end.
---